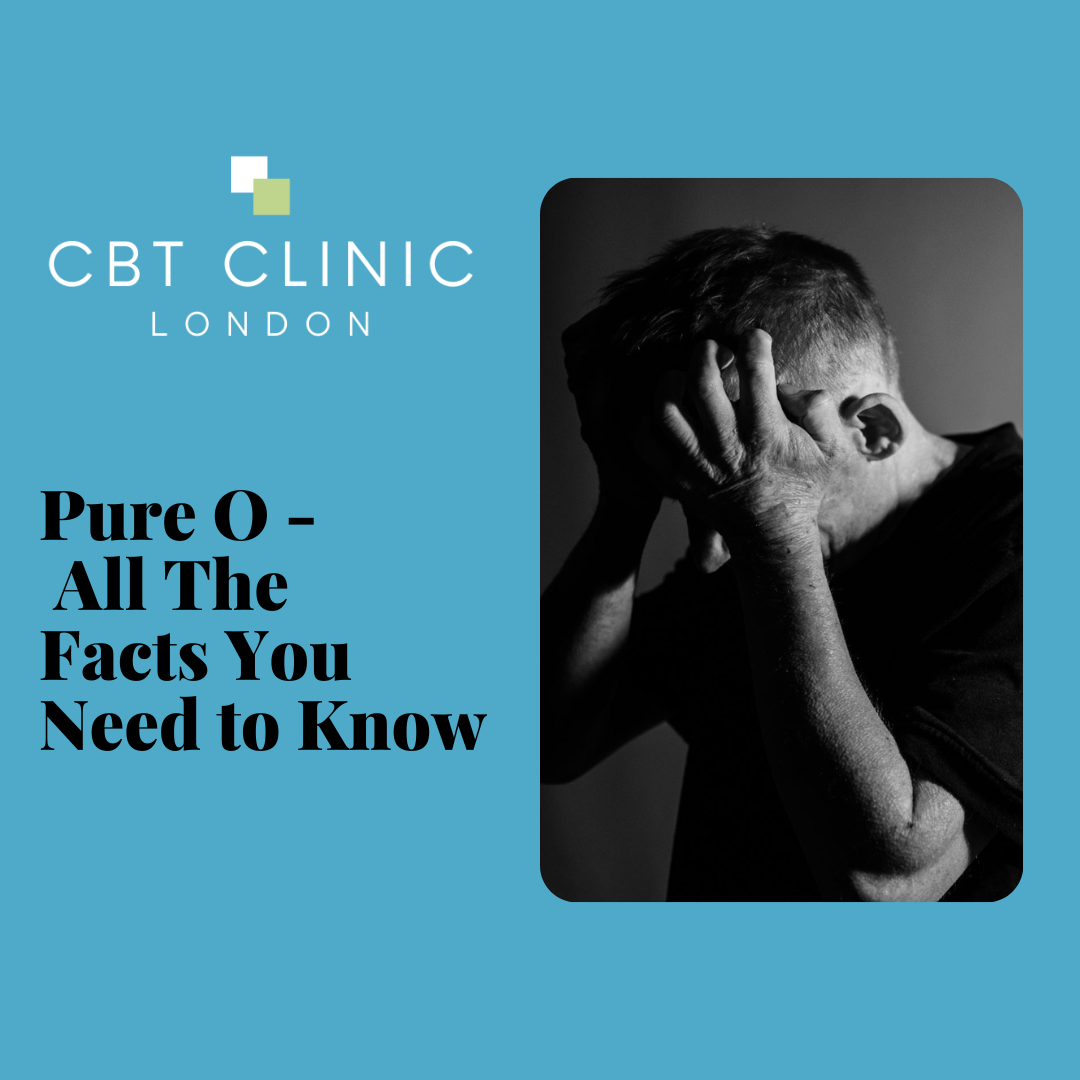 Pure O – All The Facts You Need To Know
Purely Obsessional OCD, or Pure O as it's more commonly referred to, is a form of OCD (Obsessive Compulsive Disorder) characterised by intrusive, uncontrollable thoughts or obsessions. Although someone experiencing Pure O may not display the more obvious behaviours associated with OCD such as hand-washing, arranging, cleaning and counting, the disorder is instead accompanied by hidden mental rituals.
Pure O is often seen as a less severe form of OCD however that is far from correct. For those experiencing the symptoms of Pure O, the intrusive thoughts that present can be extremely disruptive and distressing. 
How Does Pure O differ from OCD?
Those with Puro O experience obsessions without any obvious behavioural compulsions however, they do still engage in mental and unseen rituals. By therapists and mental health professionals understanding these rituals and how they affect sufferers, they can then ask patients about these symptoms.
Often patients with these intrusive thoughts may be reluctant to discuss this and may not actually be aware that by acknowledging them, they can begin to take control of them.
What Are the Symptoms of Pure O?
The nature of Obsessive Compulsive Disorder means having recurring obsessions and displaying compulsive behaviours e.g having uncontrollable thoughts of germs and cleanliness which results in a com[pulsion to wash their hands repeatedly.
Those who experience OCD in a purely obsessional form still encounter a range of OCD symptoms however the outwardly obvious compulsions aren't displayed. By definition, OCD is characterised by obsessions and compulsions. With Pure O these can be identified in the image below.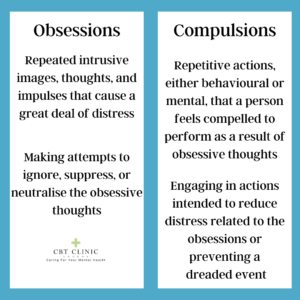 What Are Obsessions?
Obsessions can be described as recurring, persistent, intrusive and unwanted thoughts, images or urges which cause distress and anxiety. Obsessions often focus on somatic (related to the body), sexual, religious or aggressive thoughts. Concerns with symmetry, order and contamination can also be present.
What Are Compulsions?
Compulsions are repetitive behaviours or mental acts those with OCD are compelled to perform as a response to an obsession or perhaps, to satisfy a set of rules that govern their thoughts. Compulsions are excessive in comparison to typical reactions to thoughts and not connected realistically to the issue they're intended to solve.
What Compulsions Are Associated with Pure O?
Intrusive thoughts may also be described as "unacceptable thoughts" or "taboo thoughts" which lead to obsessions and therefore compulsions. Individuals who experience Pure O obsessions engage in mental rituals in order to manage their distress and anxiety. These rituals could include:
Mentally repeating certain words
Mentally reviewing memories or information
Mentally un-doing certain actions
As an example, a simple interaction at a supermarket with a stranger where the patient has mispronounced a word may be played out over and over mentally, with those experiencing this thought, thinking of how the situation would have gone differently if they hadn't misspoken.
Those in distress by intrusive thoughts may then compulsively seek reassurance, most usually without realising that they are doing this or recognising it as a compulsion. Reassurance-seeking behaviour could look like:
Researching online
Seeking self-assurance
Asking others for assurance
Avoiding anxiety-provoking situations
Types of OCD
It's thought that there may be three to six subtypes of OCD including Pure O. When it was first spoken of in a 1994 article (Journal of Clinical Psychiatry, Pure O was described as being composed of "sexual, aggressive and religious obsession that were not accompanied by compulsions". However, later research went on to further divide aggressive obsession into fears of impulsive harm and unintentional harm. These thoughts of impulsive harm are often related to sex, religion and aggression.
Some common types of OCD experienced by patients with Pure O could include:
Harm OCD: Fears of causing harm to oneself or another including physical harm such as aggression towards or killing oneself or others and sexual harm including sexual harm towards children.
Intrusions about children OCD: Unwanted thoughts of a sexual nature and urges related to children. These can be accompanied by compulsive rituals for example washing or praying to neutralise the thoughts and urges.
Relationship OCD: Intrusive and unwanted thoughts which cause people to doubt their feelings within the relationship including the level of attraction and love for the partner as well as question their sexual desirability or compatibility.
Sexual Orientation obsession in OCD: This can also be called HODC or homosexual OCD Extreme anxiety about sexual orientation.
Treatment for Pure O and OCD
Treatment for OCD, including pure O, can include the use of medication in combination with psychotherapy, which can include cognitive behavioural therapy (CBT) and support groups as well as psychological education.
It has been discovered that CBT therapy can be an extremely effective treatment for Pure O. It is vital that therapists address the underlying mental rituals that characterise Pure O, if the therapist believes that the patient only suffers from obsessions and does not also treat the mental rituals that accompany these thoughts, the treatment will not be as effective.
Although successful treatment of OCD should entail consulting with a qualified mental health professional, there are a number of self-help strategies that you can start using before you start professional treatment to help you or someone you love to cope with pure O symptoms.
Relaxation strategies: As stress is a major trigger of pure O symptoms, one of the best ways to cope is to learn and practise relaxation techniques such as deep breathing, mindfulness meditation, or progressive muscle relaxation.
Exercise: There is growing evidence that engaging in aerobic exercise can reduce the symptoms of OCD. Exercise helps to release endorphins which are our happy hormones so is an important aspect of our daily mental health, exercising outdoors can be even more beneficial.
Support groups: Both online and in-person support groups can be of enormous benefit to people with pure O and their loved ones by providing resources, information, or simply a compassionate, listening ear.
If you or a loved one are suffering from Pure O, contact your healthcare provider and seek advice. They will provide you with a treatment plan as well as ongoing support and resources. 
CBT Therapy London
Alistair Bond is principal practitioner at CBT Clinic London. As well as being an expert in CBT therapy and Mindfulness Meditation he specialises in OCD and helping people overcome distressing and upsetting Intrusive Thoughts- what is referred to in the media now as "Pure O"
The CBT Clinic London offers both online and face-to-face CBT Therapy. Just tell us which you'd prefer at your FREE consultation. If you'd like to mix the types of sessions you have, we also have that option. If you choose one type of session and decide you'd like to try another format, you have the freedom to change. Your therapy should be your way and led by you.
Contact us today to arrange your FREE Consultation. Call our friendly reception on 0207 157 9924 or fill out this form:
Learn More
OCD Therapy CBT Private Clinic East London
Obsessive-Compulsive Disorder or OCD is a common, chronic and long-lasting disorder of the brain in which an individual has uncontrollable, reoccurring thoughts [obsessions] and behaviours [compulsions] that he or she feels the urge to repeat. The disorder can be treated with medication, psychotherapy or a combination of both. Some individuals respond well to treatment, whereas some continue to experience symptoms. Some individuals with OCD can have other mental disorders, such as anxiety, depression and body dysmorphic disorder.
Obsessive-Compulsive Disorder and CBT Therapy Treatment
We welcome telephone enquiries in the first instance, call our offices on 0207 157 9924 we are closed on Sundays. Opening hours: Monday 8am–9pm, Tuesday 8am–9pm, Wednesday 8am–9pm, Thursday 8am–9pm, Friday 8am–9pm, Saturday 10am–5pm.) or you can send us a message via the Contact Form online.
---
Age, Sex and Obsessive-Compulsive Disorder Diagnosis
Obsessive-Compulsive Disorder can affect adults, adolescents and children. Most individuals are diagnosed by the age of 19, typically there is earlier onset in boys than in girls, but onset after the age of 35 can happen.
It is common for all individuals to double check things at times however those individuals with Obsessive-Compulsive Disorder cannot control their throughts or behaviour, even when such thoughts and behaviours have been recognised as excessive. Individuals with Obsessive-Compulsive Disorder have symptoms of obsessions, compulsions, or both and they can interfere with every aspect of daily life, from work, to school and personal relationships.
OCD Common Obsessions: Obsessions are repeated thoughts, urges, or mental images that can cause the individual anxiety:
Fear of germs or contamination
Unwanted forbidden or taboo thoughts, involving sex, religion and harm
Aggressive thoughts towards the self or others
Having things symmetrical or in a perfect order
Individuals with OCD do not want to have these thoughts and can find them disturbing. In most cases individuals with OCD realise that these thoughts do not make sense. These obsessions are typically accompanied by intense and uncomfortable feelings such as fear, disgust, doubt, or a feeling that things have to be done in a way that is just right. These obsessions are time consuming and can get in the way of important daily tasks.
Compulsions are repetitive behaviours than an individual with Obsessive-Compulsive Disorder feels the urge to do in response to an obsessive thought:
Excessive cleaning and/or hand-washing
Ordering and arranging things in a particular, precise way
Repeatedly checking on things, such as checking to see if the dor is locked, or that the oven is turned off
Compulsive counting
Compulsions are behaviours or thoughts that an individual uses with the intention of neutralising, counteracting, or making their obsessions go away. Individuals with OCD realise that this is only a temporary solution but without a better way to cope they often rely on their compulsions as a temporary escape. These compulsions are time consuming and can get in the way of important daily tasks.
These individuals often spend at least an hour a day on such thoughts or behaviours, they do not get pleasure when performing such behaviours or rituals but they may feel brief relief from the anxiety the thoughts may be causing them, and they can experience significant problems in their daily lives due to those thoughts and behaviours. A tic disorder can also be common with some individuals with Obsessive-Compulsive Disorder. Motor tics are sudden, brief and repetitive in nature such as eye blinking, facial movements, shoulder shrugging or head jerking. Common vocal tics can include repetitive throat clearing, sniffing or grunting.
Canary Wharf OCD Private Therapy CBT Clinic
These symptoms can come and go, ease over time or become worse. CBT Therapy is the most effective treatment for the symptoms of OCD and you can find more about how we treat OCD and many other common mental health difficulties with us here in Canary Wharf.

Learn More