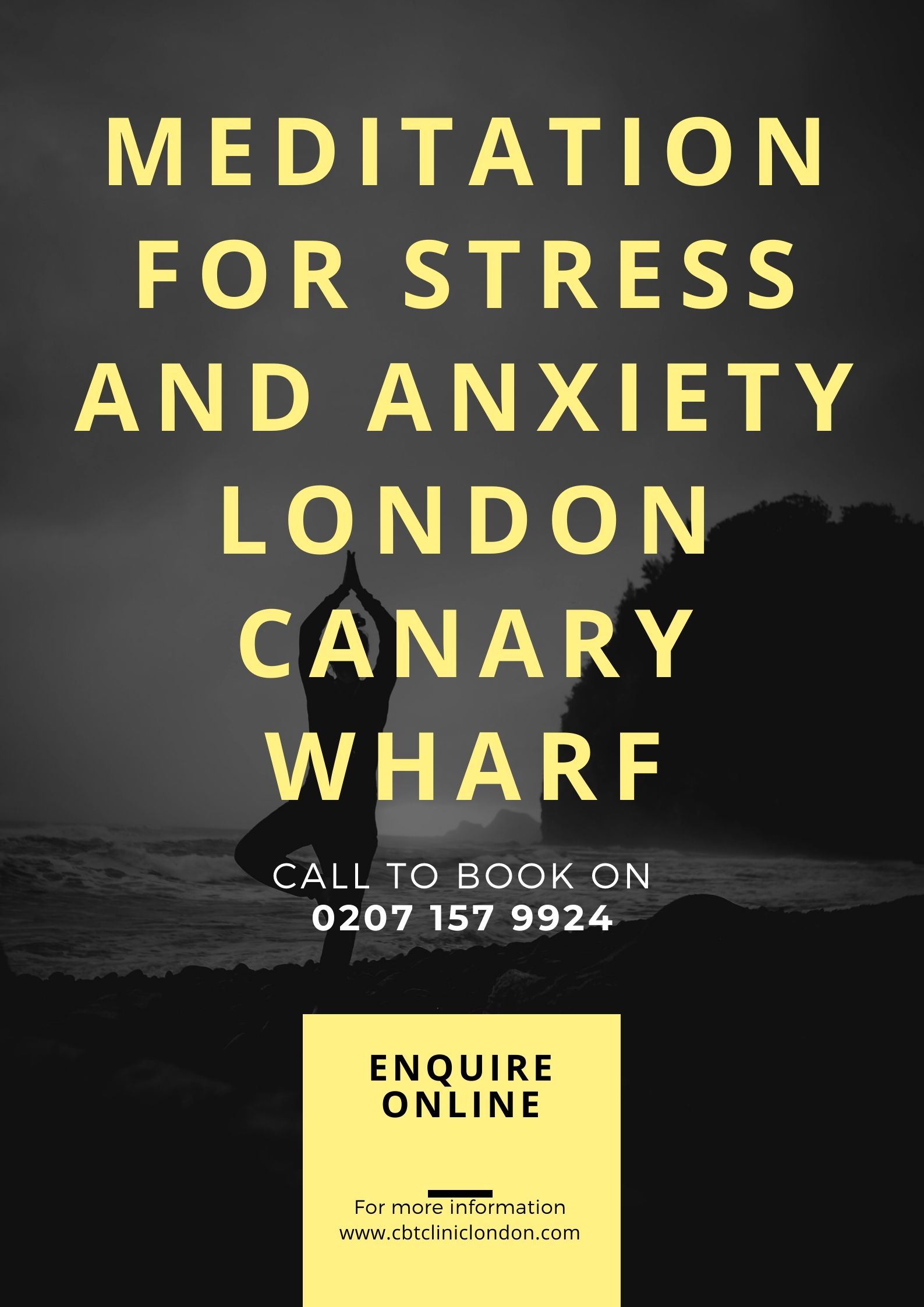 Meditation for Stress and Anxiety – Canary Wharf, East London
Meditation has long since been a buzz-word in all things well-being particularly in relation to the practice of mindfulness (link to article). It's origins, however, have been more deeply rooted in religion, culture, and spirituality. Meditation has been practiced for thousands of years, enabling practitioners to find a sense of inner peace and a deep spiritual connection.
In more recent times meditation has been applied to non-spiritual aspects of daily life in order to nurture good mental and physical health. And can help to manage and overcome the general stress that today's busy lives can bring.
Meditation is recognized by health professionals (including the NHS) as a useful tool to help individuals combat the effects of stress and anxiety. With long term practice students have seen the health benefits that regular meditation has enabled such as, improved sleep and increased attention span and lower blood pressure.
For information about our meditation classes in Canary Wharf, East London email our team now on info@cbtcliniclondon.com or call 0207 157 9924.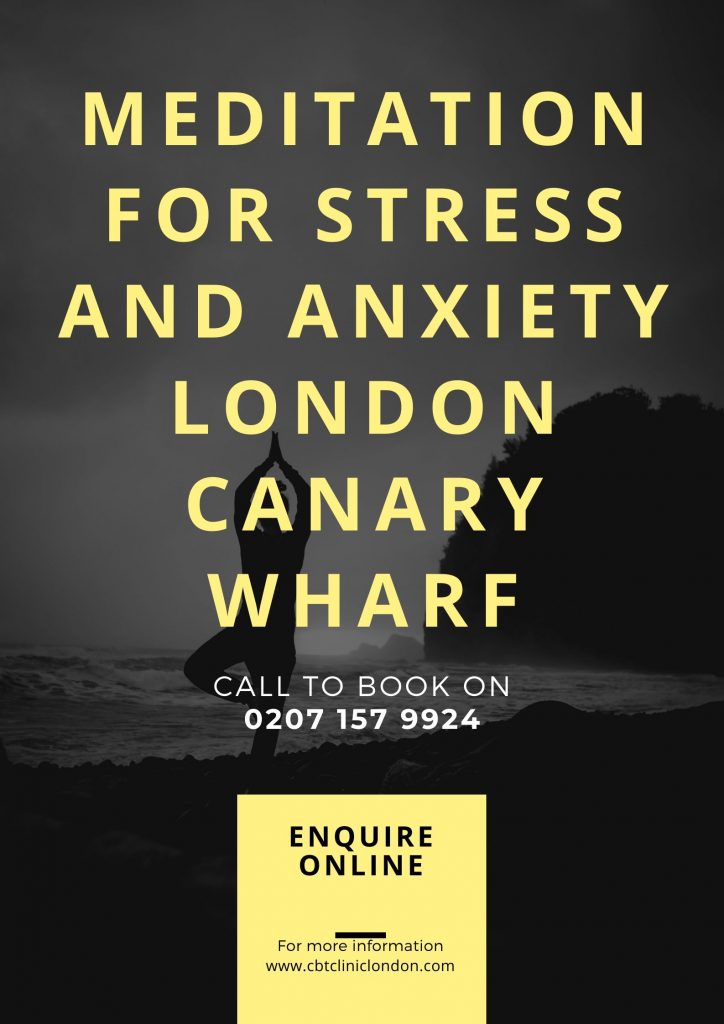 What is Meditation?
Meditation is a very simple practice that uses techniques to help focus the mind and train awareness, enabling the participant to achieve clarity of mind and an overall calmness which can help alleviate the stresses of everyday life.
Meditation techniques have changed somewhat over the last few years. Traditionally meditation practice went along the following lines…
A teacher would have instructed you to sit on the floor, cross-legged, with your back straight and eyes looking forwards or closed. The only guidance you would receive from the teacher would be something like this – "focus on your breath and every time your mind wanders bring your attention back to your breath". The teacher would then ring a bell and you would begin. For the next 30 to 60 minutes you'd be pretty much left to your own devices.
Students would be practicing in complete silence, often they would struggle to make sense of it all before another bell would ring to indicate that the session had come to an end.
And that was it.
Guided Meditation London – E14
Thankfully learning meditation has moved on a great deal and at The CBT Clinic London we teach meditation in a more gentle, flexible and approachable way, which is commonly called guided meditation.
Research shows that guided meditation is the easiest and best way to help you develop the skills to enable you to get the most from your meditative practice.
Throughout the class, you will be given clear instructions and guided on how to prepare your body, where to place your attention and what to focus on from one moment to the next. You'll also be told how to relate to certain obstacles, and all this will be interspersed with reminders to be kind to yourself and to complete the practice as best as you can.
Our aim is for all students to be more accepting of their present moment experience and to feel connected to this present moment whilst having a chance to recharge their energy levels. By removing themselves from their hectic surroundings, without any distractions, students of guided meditation see a reduction of anxiety and stress and often experience a better quality of sleep.
Our meditation classes are based in our East London clinic (2 Butcher Row, Limehouse, London E14 8DS). We are about 4 minutes walk from Limehouse DLR Station and we are in proximity to Canary Wharf, Poplar, Wapping, Whitechapel and Mile End.
Guided Meditation Classes or Private Meditation Sessions
To find out more about CBT London Clinic's Meditation Classes please call 0207 157 9924 or email info@cbtcliniclondon.com.
Meditation is most effective when practiced regularly however, we understand that those with irregular work patterns or family commitments will find it challenging to commit to a regular class. We offer a virtual option whereby you can access a 1-2-1 guided meditation class in the comfort of your own home via skype or Facetime.
For details of private meditation practice please contact us to discuss in more detail.
Alistair Bond is Clinical Director and Senior CBT Therapist at the CBT Clinic London. He holds full BABCP accreditation as a Cognitive Behavioural Therapist (CBT) and mindfulness teacher. Alistair is committed to giving his clients the very best treatment and care by receiving regular training at the Institute of Psychiatry (IOP) in London and he receives regular clinical supervision by a Consultant Psychiatrist.
Find out more information about the problems we treat at the CBT Clinic London
Related Posts
Chronic Pain: The International Association for the Study of Pain (IASP) defines...